Dont Walk Away.
Another day pass. I am being
stupid
by counting every single day that pass.
Stupid vic.
Currently just steal this pic from Edward's friendster.
eh, is not steal cause i did tell him that im taking it.
This pic was took during the MYYC07 in Maju Junction mall located in KL.
Spot me ya! :)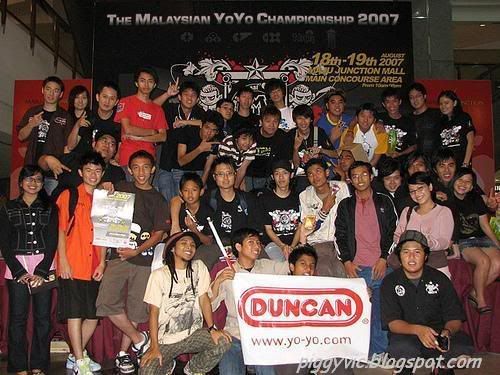 An event to remember :)
Was supposed to have dinner with my siblings & mom at
Yuen Steamboat
near Sunway there.
But when we reach there, it was a longggg queue & we were lazy. change our plan to have dinner somewhere else.
So then we head down to
KL
for our dinner as we were planning to have it at
Iciban Restaurant.
My mom wasnt really good in KL road so I am the life saver & bought them there.
Guess what?! I was so happy that i found the location of the restaurant but
IT WAS CLOSE
!
omg!!!
I was so sad and disappointed weh.
Fine fine. just fine!
Somemore in KL, I somehow got memories with
him
there.
Omg, i suddenly recall back about the memories :(
Then, okay we decided to go to
Sri Hartamas
shopping mall to have
FlamingJ
for dinner.
so we drive back to
PJ
and head to
Sri Hartamas
happily.
Reached the mall, park our car & search for the restaurant.
OMG
again!
It had closed down!!
was so damn frustrating weh. seriously. =/
Everyone of us are super hungry & our stomach was like aching due to gastirk.
Wat do you expect man. I dint have my lunch today.
So we brought some bread from
Bread Story
to overcome our gastirk problem.
Conclusion, we went to

Hartamas

mall just to get some bread

=.="
I was in the not good mood already but i dont want to spoil the mood for the day as this dinner outing was to celebrate my lil bro b'day.
Although it was celebrated last minutes but still, we did celebrate for him right?!
His b'day was on the 26th sep for yr info.
Okay back to the dinner story.
So my mom suggested us to head back to the
Yuen Steamboat
and check out whether is there still along queue. So we did.
That time was around 9pm and still got many people queue-ing up in front of the restaurant.
All our hope to have dinner there drown.
wth
And finally we got totally fed up & just go to taipan for dinner.
We had our dinner at
Big boy
restaurant.
Our journey was from

Sunway

then to

KL

then to

Sri Hartamas

and now back to

Subang

again.
What a day =/
the drink that chill me down.
Finally got our dinner at 9.20pm after travelling from one to another place just to hunt for good foods. Big Boy's foods was average. What I order just now is so not my type of food.
While walking back to our car, we met our neighbour.
So the aunt bought us to
MCD
to have a dinner and chit chat with my mom.
Oh okay so we went there.
I was chatting with my neighbour whose is Justin & Joshua.
Well, I meet Edwin and his friends there too.
Send my regards to them & disturb them for a while.
They seems to have a guy talks there so I just get back to my table and let them continue their talks. Dont really bother to know either.
Hey, guy talks what. aiyo. Who care right?!
So that's my day.
Started to be an
emo gir
l
again especially when I suddenly recall back about our memories.
Anyhow memories will all be there & it will remains.
We cant even erase it from our mind unless you get yr head knock on the wall then get into koma situation.
Anyways Im not that stupid to go knock my head on the wall.
So guys, dont have to worry abt it.
Counting down the days we dint talk to each other.
It is already 2day.
Did anyone realise that currently I like to use this emoticon :) although Im emo?!
Kinda fake right? but who care? Just think that Im smiling and everything will be fine.
Sometimes it is
hard
to smile but if you want someone to be happy then we should give a smile back to them to cheer up their day. So :) always.
And I am wondering are
you
happy now?!
happily living with yr life there? :)
By the way, life is really that unfair right?
Anyone agree with me?!

p/s -
When love is lost and dreams are shattered,

pain and disbelief

are all that remains.