Yes, choose wisely because we were given only 2 choices. The choices were
1. To attend EASB Sports Day
or
2.Detention Class
.
If we were late or absent for the sports day, yes we'll have to attend detention class
what kind of bullshit is this
The detention class definition is simply different from any normal detention class from other schools.
For EASB aka East Asia Institute of Management, the detention class is to sign in to school at 9am and sign out from school at 6pm! You tell me, who own earth will want to go for detention class?
Apparently, there are some of my classmates are in detention class now :S Good luck people

*grins*
Obviously, I'm not that stupid to do something that wont bring me any benefit like attending detention class. Hence, I went to the event that was held at Queenstowns Stadium which located 45minutes away by bus @.@ Not forgetting, the report time to reach the stadium was
7am!!!
We were reminded that attendance will be taken at 7am.
So unwillingly I woke up at 5.30am on a saturday morning and went for breakfast at MCD with Mandy before taking a bus to the destination. It was my first and last time waking up this freaking early in the morning. Please it was on a saturday mind you.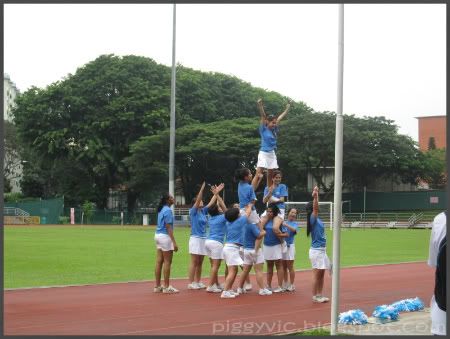 I didn't snap pictures for the green house cheerleading because I was busy recording their performance. I have uploaded it in facebook by the way.